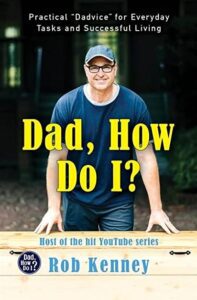 This week in the Brilliantly Resilient Summer of Giveaways, we feature Rob Kenney of Dad, How Do I? fame! Rob is, quite simply, the nicest man in the world, and a fill-in dad for kiddos from pre-teens to 80-year-olds! (Seriously, one fan called herself Rob's 80-year-old daughter!)
Rob's book, Youtube channel and Instagram page offer not only DIY tips, but warmth and wisdom, plus some pretty bad Dad jokes! Starting each of his videos with the endearing phrase, "Hey Kids," Rob is sure to warm your heart.
SO, if you're looking for a "feel good" book and could use a little dad love, check out Rob's website and don't forget to ENTER TO WIN A COPY OF THE BOOK! We know you'll love Rob as much as we (and Kevin Hart–Whaaaatttt???!!!) do! Thank you, "Dad," for being a part of our Brilliantly Resilient family. We love you!